University Management System
The University Management System is an enterprise online system which automates the internal workflow procedures of a university as well as the interaction with the students and the instructors.
The UMS allows universities to create a more structured organization, increases the transaction handling capacity and improves the system of internal control.
Click here to download Full UMS Features
Click here to request a demo
The Academic Solution
Students: Easily-accessed, time saving, personalized, high-quality education.
Using the UMS-X1, students do not need to go to the university to apply but rather apply online. As students, they can remotely-access the UMS-X1, no need to wait in line to register their courses or pay their tuition. They can communicate with their instructors online, view their grades and check their curriculum status anytime and anywhere.
Faculty: Better-quality courses, direct student-instructor interaction, grading accuracy, easy course content management.
Using the UMS-X1 Faculty can offer more organized courses having direct student interaction. Instructors can manage their course offerings efficiently by using the course management environment provided by the UMS-X1. By taking the inefficiencies out of course design and delivery, the UMS-X1 gives instructors more time to enrich their courses, build their expertise, and support student progress and performance.
The Administrative Solution
Administrators: A cost-effective platform for improving quality and reaching more students.
UMS-X1 reliability, scalability, open standards support, and integration with leading campus systems ensures smooth implementation, low-overhead management, trouble-free growth, and the fastest possible return on the institution's investment. Plus, its data mining and reporting capabilities allow the administrator to extract information to support internally and externally-driven initiatives, usage planning, accreditation processes, recruitment targeting, student intervention, and much more.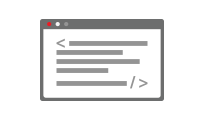 Content Management System
CMS (Content Management System) is the processes and workflows involved in organizing, categorizing, and structuring information resources so that they can be stored, published, and reused in multiple ways on our websites and applications.
SYSCOM developed its own customized content management system (CMS) based on CodeIgniter Platform that is used to collect, manage, and publish content, storing the content either as components or whole documents, while maintaining the links between components. Our Content Management System is a highly-advanced and flexible solution for small, medium, and large-scale websites and portals.